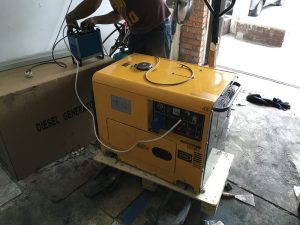 Generator Pasar Malam Rental & Sale
Pasar Malam generators are night market generators that require power for lighting and equipment powering. This involves installing the string of lights and plugging it onto the generator. Usually these kind of generators do not require much power. Typical power range for this kind of generators can start from 5kVA.
Also it should be capable of withstanding the heat and rain especially during rainy seasons in Malaysia.
Pasar malam generators are noisy, and it is time that we introduce our generators to change that. Our MGM generators are more silent in nature because of its canopy housing. They are also easily movable because of its built in wheels.
If you are kind, you can also share power with your neighbouring stalls because the power provided should be enough for the few of you.
Afterall, sharing is caring.
Finally if you would like to rent or buy a pasar malam generator, call us now at +6016 2123833